03.03.2014
LEAVES' EYES and ATROCITY have just posted new albums with pictures from their recent USA/Canada tour!!!! Click on the images to go to the albums:
LEAVES' EYES:
ATROCITY:
THANK YOU! 
Our final show of the North American run in Toronto was awesome!
What a superb tour! We would like to thank all our fans and friends who attended our gigs in San Juan, at 70000Tons of Metal, in the US and Canada!
Four weeks filled with amazing live experience and unforgettable moments – we are forever grateful. Thank you Moonspell and crew for a killer tour! 
Hope to see you all again soon!
10.02.2014
Due to the state of emergency declared by the authorities, Moonspell and Leaves' Eyes have to postpone their performances at the Alhambra Theatre in Portland.
The weather conditions and the heavy snowstorm created a situation about which the promoters were forced to make a choice.
The plan now is to play this show Tuesday February 11th. We will have to skip Edmonton because of the weather/road conditions, which we are deeply sorry about. However, this is the only way we can keep this tour going. We will be driving to Seattle today, moreover, tomorrow we will play Vancouver.
Our apologies for any incovinience, we tried to find the best solution and we do hope this tour will stay on its triumphant path! Greetings to all our fans and do stay under the Spell on this Winter rise!
Note: Of course Atrocity will perform again on Tuesday. Also Portland tickets are good for Tuesday. Most of the persons holding presale tickets weren't able to appear at the show for safety reasons but we do hope to see you on Tuesday. We will do a quick meet and greet to sign your stuff at the merch booth a little after doors. We will keep you posted.
26.01.2014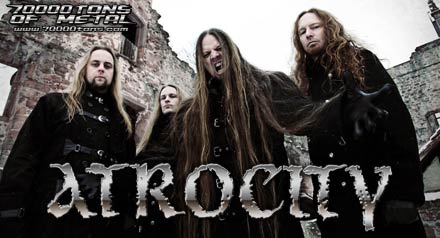 Newsflash from the 70000 Tons of Metal Cruise:
'You had to wait long enough to find out who is number 40, so let's put an end to all that Terror and welcome ATROCITY on board 70000TONS OF METAL 2014, The World's Biggest Heavy Metal Cruise!'
That's right ATROCITY has just been confirmed for the 70000TONS OF METAL Cruise!
Join the Dark Metal celebration!!!
17.01.2014
Dear fans and friend from the Czech Republic! 
We are happy to announce that LEAVES' EYES & ATROCITY will be returning to the Czech Republic!!
Both bands will play the MADE OF METAL festival in Hodonin on the 15th and 16th of August 2014!!!
You can get your tickets here:
http://www.madeofmetal.cz/eng/tickets.html